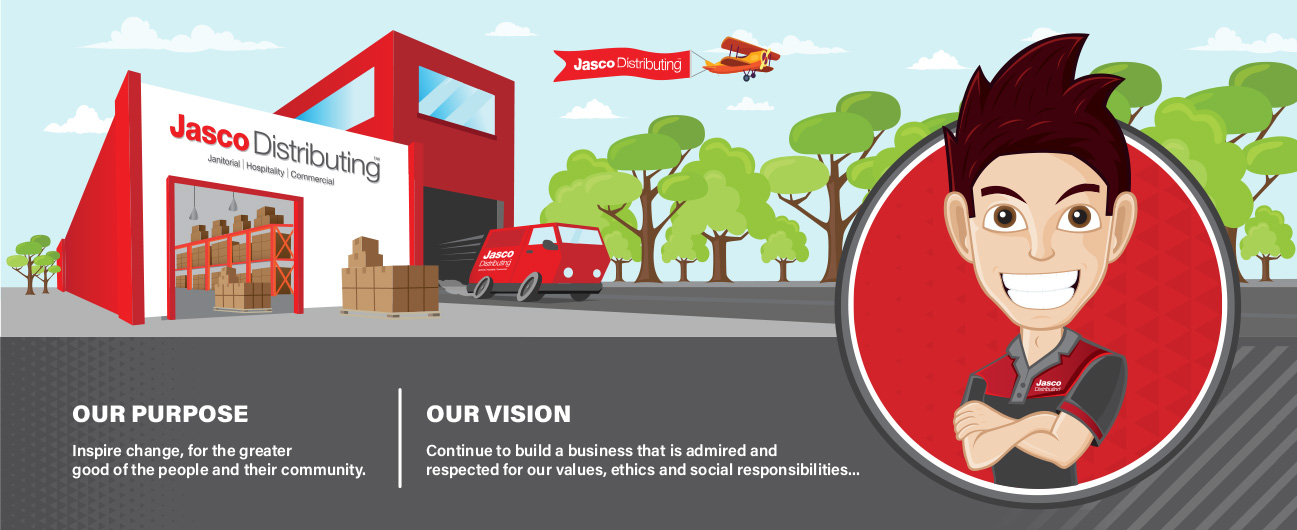 Why partner with Jasco Distributing?
Founded in 1980, our story begins 40 years ago when our founder had the vision to create a great company that was innovative and responsive, but with strong commitments to social and environmental responsibility. One that was dedicated to serving the best interests of its clients, based on "Real Values and Benefits". A truly great company!.
From those humble beginnings and the dream to become "great", fast forward to today. Not only is Jasco Distributing a great company, but we continue to aspire to achieve great things. For now, we can celebrate the fact that we are one of the greatest independent distributors in our industry and we're proud of that achievement.
Our purpose is to make a beneficial difference to help inspire change for the greater good of the people and their local communities. By working together in partnership, helping our customers make informed decisions about the products and services they use every day, we believe great things will happen. With the combination of our industry knowledge and experience, coupled with education and training, we create a framework to improve productivity, lower costs, produce better results and reduce environmental impact. A framework that will also help with compliance and improve Health & Safety practices.
Everything has a flow on effect, so when you do business with Jasco Distributing, you are not just helping your business, you are helping us create a better community.
Why not join us on our journey and take your own steps towards greatness.
---
Jasco Distributing - 40 years in business. Built on...
SUSTAINABILITY, VALUE , TRUST, SERVICE & SUPPORT, KNOWLEDGE

SUSTAINABILITY - Jasco Distributing is committed to improving its performance with regards to environmental sustainability, firstly as an objective for the company and secondly with the products and systems we offer to our customers. We are constantly evaluating new sustainable products and high emphasis is placed upon sustainability when evaluating any new potential suppliers. Jasco Distributing – Winners of "Sustainability in Business" 2019 Westpac Business Awards

VALUE - Value embraces everything we do for our clients, it is more than just the price of the goods purchased. From product selection, defined systems and training to delivery and after-market support. Jasco Distributing provides "Real Value", which in the end makes all the difference.

TRUST - 2020 marks our 40th year in business which indicates Jasco Distributing has become a "Trusted Advisor" for many businesses throughout New Zealand. "Trust" is not given it is earnt through dedication and commitment and delivering results..."

SERVICE & SUPPORT - Jasco Distributing set the bench mark for service in our industry, in fact it's the #1 reason why our customers deal with us. Backed by Global and Market Leading Brands giving you access to a wide range of new technologies and the latest industry trends, which ensures you are always up to date with current legislations.

KNOWLEDGE - Our team of 24 has over 100 years of combined experience, with some of the longest serving and knowledgeable people in the industry. Our experienced team are on hand when you require them.
---

Backed by Global and Market Leading Brands...
---



Core Markets
Government Agencies, Commercial Cleaners, Business Service Contractors, Food Service, Food Process, Accommodation Sector, Manufacturing & Production, Education Sector, Early Learning, Primary, Secondary, Tertiary, Aged Care, Health Care, Professional Services, Construction & Trade Services, Service Stations & Retail Stores, Tourism & Recreation

---